See Calendar below for more details about upcoming events.
Next Upcoming Weekly Sermon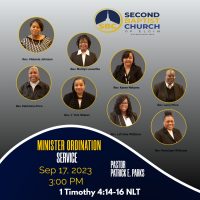 Minister Ordination Service • September 17th
Join us for youth for the Minister Ordination Service on September 17th at 3pm.
Youth Open Gym • October 6th
Come hoop with us! Youth open gym will be held from 6:15pm-8:15pm on October 6th, 2023. For more information, contact the Youth Ministry via email: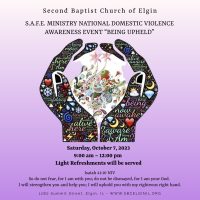 S.A.F.E Domestic Violence Awareness Session • October 7th
Enjoy light refreshments while learning critical information about identifying, preventing, and assisting in scenarios involving domestic violence during our morning session from 9am-12pm.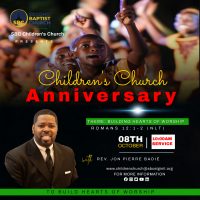 Youth Open Gym • October 8th
• Ages 6-12


Join us little ones, for Children's Church hosted by our wonderful Youth Pastor, Rev. Jon Pierre Badie. For more information, please contact us at the email below: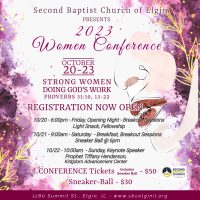 Women's Conference 2023 • Strong Women Doing God's Work
Save the date Ladies! Join us for our annual Women's Conference, occurring October 20th-23rd. Reservation starts August 20th, with tickets available for both the conference and sneaker ball. More information TBA.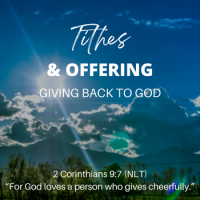 TITHES & OFFERING
Thank you for giving.
Any members submitting tithes and offering via Zelle,
please update the username/recipient to:
MEMBERSHIP & CONTACT INFORMATION UPDATE
Be sure to your SBC membership information is accurate so you don't miss out on all the exciting activities happening at our church.
SISTER CIRCLE Calling all women to join the Library Ministry's Sister Circle. Sister Circle is a women's book club with a focus on building community among women of God founded on biblical principles. Supporting the church's vision of living and learning together.
Click the link to join the group to get updated information.
Keep up-to-date with the latest events and activities.
Please note:

Some events or activities may be suspended or
cancelled until further notice due to the pandemic.